>updated 4/7/12
(site wide update)
>updated 25/12/09

Home Page
(Some graphics and images on these pages may take more than the normal time period to download to your browser. Please be patient, as this site is no good without them and I feel you will be pleased with the graphics and images provided.)

Click anywhere on the graphic to open the site!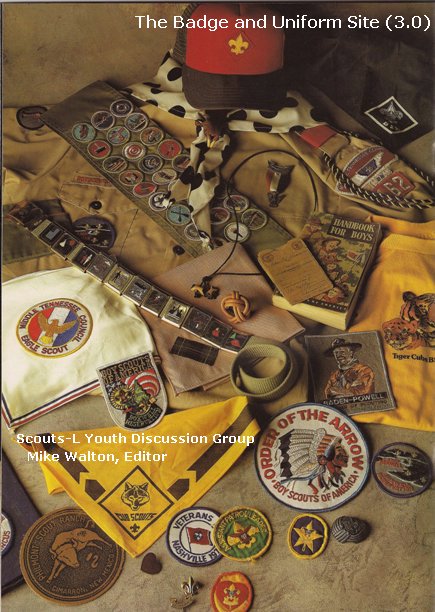 The Badge and Uniform Site (v3.0)
(Formerly the Unofficial Uniform and Insignia Online Site)
More than 38,000 pieces of insignia, flags, uniforms and accessories has been designed and developed by the Boy Scouts of America. This site attempts to explain and illustrate the most common items, with an emphasis on those items currently available or worn by Cub Scouts, Boy Scouts/Varsity Scouts, Venturers/Sea Scouts, and their adult volunteers and professional members. This site relies on information provided to the editor/webmaster of this site through the BSA's National Uniform and Insignia Committee, through volunteers and professionals in local Councils throughout the United States and around the world, and through the BSA's official publications and items.

This site is not all-inclusive and does not reflect every piece of uniforming or insignia...but I try to. I also try to include full-color illustrations or scans of the various badges, insignia, uniforms, flags and other items. Help me to help others by providing me scans of various items not covered here. Use the link to the right to do this through...and thanks for visiting!

The Badge and Uniform Site is a proud part of the U.S. Scouting Service Project, Inc's family of websites and resources!

Back to the Top of this Page
This webpage is designed for printing, three-hole punching, and insertion into Your Binder!


Back to The Tree

Insignia mainpage
© 2009 and all successive years Settummanque!
Designed by Mike Walton


Created with the CoffeeCup HTML Editor
*Boy Scouts of America®, BSA®, the Universal Emblem, Arrow of Light®, Cub Scouts®, Eagle Scout®, Scouting®, Order of the Arrow® and all other related marks and insignia, are either registered trademarks or trademarks of the Boy Scouts of America in the United States and/or other countries. All other trademarks or service marks are the property of their respective owners.*